Maintenance and recovery on interior of aircraft
Upholstery in general and manufacture of linings in cabin crew and passenger seats according to customer specifications.
Blankets.
Covers and protectors for aircraft and equipment.
Tents for hangars and workshops.
Aircraft windshield covers kit.
Protectors covers kit (engine protectors, Access doors and ports pito-static).
Exterior and interior cleaning
Procedure of dry cleaning of interior and outside aircraft.
Cleaning of accessories in cockpits, passengers and cargo areas.
Dry cleaning procedure for interior and outside of aircraft.
Interior cleaning kit.
Cleaning Carpet or vinyl floor.
Cleaning and application of preservation products in leather or synthetic covers.
Repair and installation of Upholstery in cabin panels.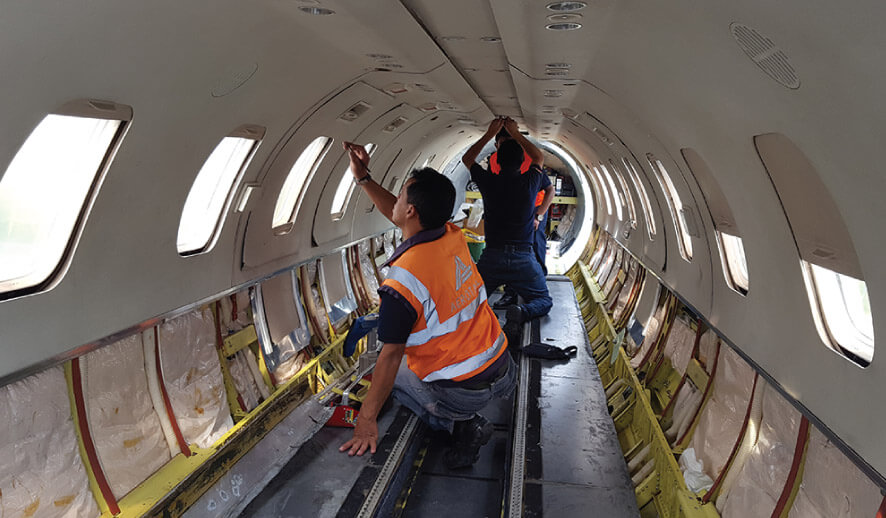 Manufacture of plastic and thermoformed parts
Manufacture aeronautical parts; according to the customer's need.
Maintenance ETAA equipment
Maintenance, repair and painting, Lektros and tractors or paymover etc.
Supply Aeronautical Materials
Leather.
Vinilic leather.
Cloths.
Foams.
Rugs and belts.
Vinil Floors (PANFLOOR).
Carpets.
Aeronautical Stikers.